Expertise
Natural gas cogeneration
DO YOU USE HEAT AND ELECTRICITY AND WISH TO SIGNIFICANTLY REDUCE YOUR ENERGY INVOICES?
---
From natural gas, cogeneration enables the simultaneous production of heat and energy while reducing energy losses.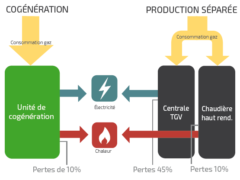 The electrical energy produced is self-consumed in priority and thermal energy is recovered in the heating circuit of the site.
The surplus is sold on the public distribution network.
The total energy production entitles you to green certificates that you sell at market price or to Elia.
WHO IS COGENERATION FOR?
Your site must be connected to the gas network and consume a minimum 300 MWh/year of electricity and 800 MWh/year of heat.
Our customers who most commonly fulfil these criteria are industries and companies active in the sectors of care provision or mass-market retailing.
Your advantages
20%
Carbon emissions decrease