Expertise
BIOMASS COGENERATION
DO YOU WISH TO REDUCE YOUR ENERGY COSTS WHILE USING AN ALTERNATIVE FUEL?
---
By burning wood, biomass cogeneration allows the simultaneous generation of heat and electricity.
The innovation of this technology lies in the gasification step of the wood. With its experience in biomass and natural gas cogeneration, Coretec offers all its expertise for the deployment of this technology in our region.
Already implemented at several hundreds of customers in Europe,  it offers considerable financial benefits as well as the efficient use of local wood resources.
The use of a biomass boiler as back-up/booster offers additional economies of scale.
Consult our technical brochure: Here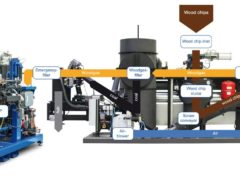 The technology can operate several modules in cascade for a total of 1 MWh.
This technology allows wood chips or pellets to be burnt.
Cogeneration gives you the right to 2.5 green certificates per MWh electrical produced in Wallonia and four green certificates for production in Brussels.
WHO IS BIOMASS COGENERATION FOR?

Your site requires energy between 300kW and 1MW thermal. It must consume at least 75.000 L fuel oil
Our customers that most commonly fulfil these criteria are industries, consumer groups and SMEs working in the wood sector.
Your advantages
90%
CO² emissions reduction